Our Activities
Comprehensive education to acquire "information literacy"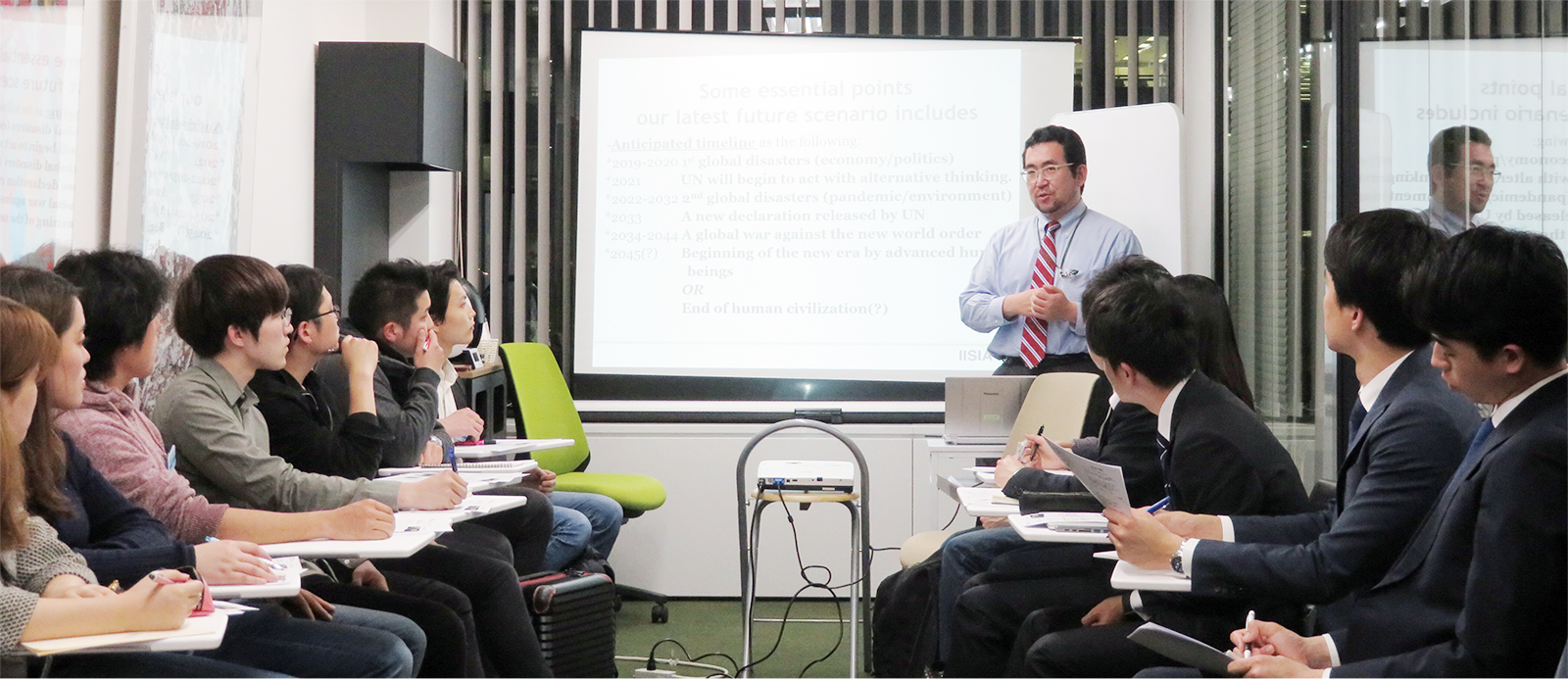 Urgent need for " information literacy" in the age of digital transformation(DX)
Facing the era of digital transformation, all the humankind urgently needs to overcome the complexity of skills to appropriately obtain both information and data, and lead their own life based on the outcomes derived from daily analysis in their brains for making future scenario.
Our association has been enormously contributing to Japan and the entire global community, jointly with the Institute for International Strategy and Information Analysis, Inc(IISIA) in their regard. The following is some typical activities we have successfully done so far.
Voluntary Seminar on "information literacy" for young students
Since 2005, Mr. Takeo Harada, president of our association, has been prioritizing efforts to educate primarily young students in terms of "information literacy". The RIJAG, together with the IISIA, has continuously expanded the project, while the number of the project's alumni recently reaches more than 400 young Japanese talented people.
Internship program for the future "friends of Japan"
The RIJAG organizes special internship programs for young students with dreams and ambitions from all over the world. While given scholarship accordingly, they are allowed to gather work experiences on the Japanese corporate culture and its beyond in the IISA and other related organizations for this origram, the RIJAG has agreed on intensive educational collaboration with the world-class universities and colleges such as the Saint-Petersburg State University of Economics:UNECON (Russia) and the Fulbright School of Public Policy and Management:FSPPM (Vietnam).

Global and domestic project for "Pax Japonica" in line with UN SDGs
Our association thinks accelerated involvement of all the stakeholders in both the domestic and global spheres to be essential and inevitable as well. From the RIJAG's view point, other familiar endeavors such as UN75/UN SDGs shall be included "Pax Japonica." Based on this understanding the RIJAG has successfully organized related prefects, which are highly appreciated and well acknowledged in the global community.
Advocacy for "Pax Japonica" in the global community

To make "Pax Japonica" happen for the sake of the entire world, we can't help from gaining appropriate support from other nations. For this purpose, our association, together with the IISIA, has intensively participate in various conference and meeting with the global leaders, so as to make the better world.
In this context, the Council for Inclusive Capitalism with the Vatican appreciated the previous efforts of the RIJAG in general and welcomed as one of its distinguished members.
Knowledge management for "Pax Japonica"
The IISIA LIBRARY specialized for "information literacy"
The RIJAG supports the IISIA in connection with the IISIA LIBRARY, which is specialized for "information literacy" only open to the paid membership of the IISIA's subscription service. For the detail, click here.